About Nayran
Nayran's public speaking work includes presenting at festival21, International Women's Day, DonateLife and the Department of Human Services. Although she misses Syria, she reconnects with her home country through the flavours she knows and loves and presenting her story and philosophy regarding the power of food to connect people.
Syrian people love cooking and eating. Syrians cook at home and for every celebration. They gather to cook with their neighbours. I was seven years old when I discovered my passion for food, especially for pastry.
Nayran shares her stories and flavours with Australians and hopes that in doing so, she can show them an aspect to her country they may not have otherwise known. Nayran believes that food can connect us and has a passion for feeding those around her. There is no way she will ever let you leave the table until you have sampled some of her food!
Each dish Nayran makes is colourful and inviting, perfect for sharing as a feast with friends and family. Nuts, spices, juicy pink pomegranate and fresh green parsley often adorn the tops of her dishes, both a visual and culinary journey that begins with Nayran's joyful cooking and her enthusiasm for introducing as many people as she can to the flavours of her home country, Syria.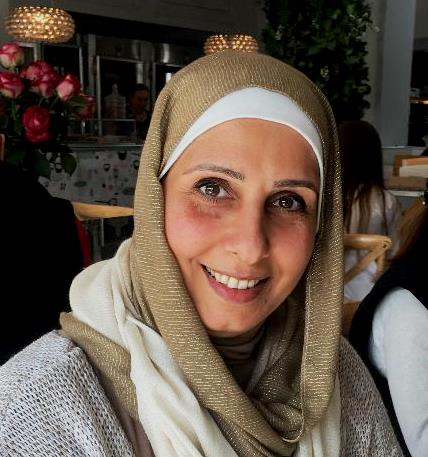 Nayran is actively involved in her local and broader community.
She has a strong commitment to giving back to the country which provided both her and her family with a safe haven.
Her activities extend from volunteering to cook at the Salvos on Christmas Day, being a speaker at festival21 this year, current committee membership on the Brimbank and Maribyrnong Interfaith Network (BMIN).
If you want to know more about Nayran's community engagement, please feel free to contact her for more information.
Syrian food and culture
Syria is a traditional society with a long cultural history. It values family, religion, education, self respect, hard work and discipline.
Syrian culture has made a large contribution to the arts, particularly in the Arab world. Both historically and in modern times, Syrian writers have produced a range of historic, folk and political narratives that offer insight into the writers' world, both socially and politically. Syrian music has also produced many notable pan-Arab performers and the traditional dance, Dabkeh, is performed at celebrations all over the Middle East.
Prior to Syria's civil war, its capital Damascus, where Nayran comes from, was a centre for cultural and artistic innovation.
Mezza

Syrian food is the focus of any gathering or event, and one of the main components is mezza, the tapas of the Middle East.
Mezza refers to a generous spread of small dishes, mostly eaten without cutlery, using flat bread, lettuce or vine leaves to scoop up dips or to wrap portions of colourful salads.
Many people, lucky enough to experience the delights of Syrian food, confuse the generous variety and volume of mezze dishes as the meal itself but these are the traditional starters. This is the prelude to the main courses and allows friends and family to enjoy each other's company, as they ease into the rest of the meal. It reflects the Syrian culture, where food is all about hospitality and generosity.
Key Dishes

Key dishes that make up part of the mezze are baba ghanouj, made with smokey eggplant and hummus. Another favourite in Syria is muhammara, a spicy capsicum and walnut dip made with pomegranate molasses.
Popular salads include the well-known tabouleh, consisting of fresh herbs, like parsley and mint and bulgur (cracked wheat), fattoush, a crunchy mix of fresh cucumber, radish, tomato and herbs topped with toasted or fried pieces of bread and drizzled with a tangy sumac and lemon dressing; and fateh, a salad with chickpeas, yogurt, tahini and garlic.
Other finger foods are golden baked pastries filled with minced meat and spices called sambusic or spinach and baked lamb pies called sfeeha.
The National Dish

Kibbeh is the national dish and comes in many varieties (raw, baked or fried) with the core element being the very fresh, finely ground lamb or beef that is seasoned and spiced and mixed with burghul (a type of cracked wheat).
Desserts
Common elements of Syrian sweets include sugar syrup, rosewater and orange blossom water, nuts and clotted cream. A combination of a number of these ingredients results in desserts that are both indulgent and aromatic and provide a wonderful end to a meal to a Syrian feast. Basbosa, often served with rose tea, is a delicious semolina cake doused in a tangy, sugar syrup, a hallmark of many Syrian sweets.

All of these delicious Syrian dishes can be prepared in one of Nayran's Flavours of Syria cooking classes or catering menus.
Please make sure to let Nayran know what you would like to try so she can customise your experience based on both your food and/or dietary preferences.